Inflatable Neck Support Brace
Inflatable Neck Support Brace
FAST, Proven & Effective Neck,Shoulder & Back Pain Therapy Without The Need For Surgery.
SOFT, Adjustable Neck Support - Alter it To Fit Your Neck Perfectly
Dramatically Corrects Posture, Helps Debilitating Neck & Back Pain
Lightweight and Portable, Ideal For Travel & Work
Feel Healthy and Mobile QUICKLY & Naturally
Discover The Instant and Effective Neck, Shoulder & Back Pain Reliever Device!
Provides fast neck pain relief, and a faster recovery from neck injuries, without the need for medications or surgery. Relieves neck pain for anyone suffering from neck arthritis, herniated/bulging disc in the neck, neck strains and cervical muscle spasms.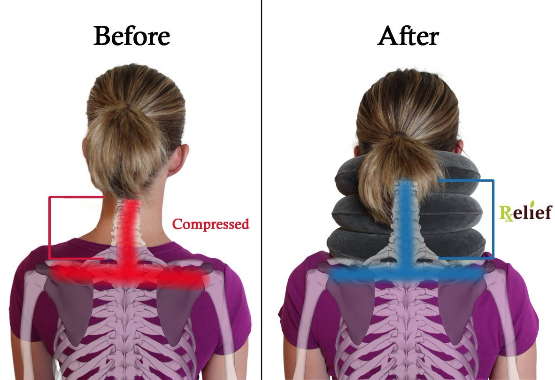 Who Will Benefit Most From A Neck Traction Device?
Instructions for use: (detailed instructions come with the device)
Place the device around neck.
Adjust the Velcro straps to fit your neck.
Using the easy hand pump, inflate the brace pillow till your neck sits comfortably.
Use it while at home, at work (great for sitting at the computer!) or travelling.
To deflate, after the treatment, press the safety ball up into the raised cavity which allows the device to deflate, then remove the device.
DUE TO HIGH DEMAND: Shipping for this product may take an extra 1-2 weeks